This application provides a modern GUI interface for exploring Windows event logs if you don't want to use the default user interface from the Win 2000 era. It is free for non-commercial use. View, analyze and monitor events recorded in Microsoft Windows event logs with Event Log Observer. This is a powerful software tool that helps you find and analyze security warnings, problems and any other events that occur within Microsoft Windows operating system. Explore Windows event logs like never before. Query Windows event logs directly, without importing them into an external system. With Event Log Observer you can even use SQL, the most popular data query language. And not only event logs, ELOB can easily read text based logs, W3C server logs, log4j, XML, JSON, CSV/TSV files and more.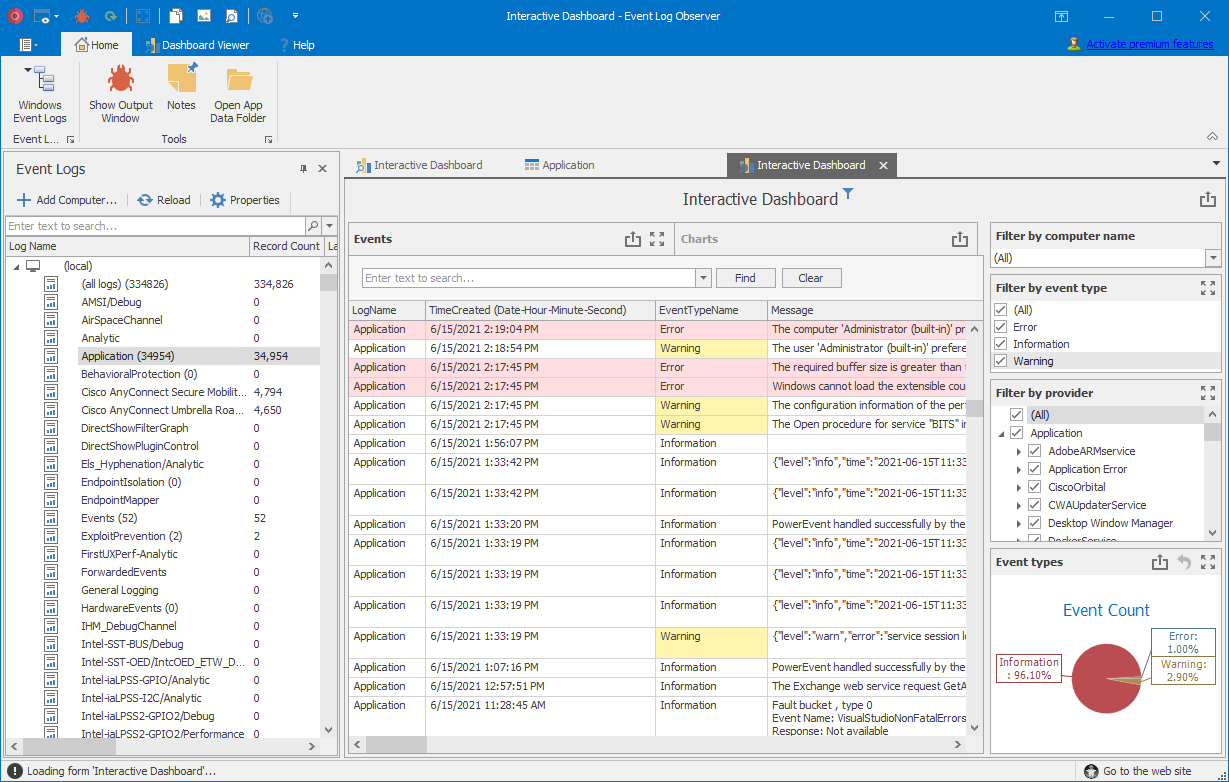 Some features our users love:
Look & Feel
We put a lot of effort into creating a modern Office inspired Multiple Document Interface with ribbons and tabs, to guarantee the best user experience. You want to use an application that looks nice if you spend a lot of time looking at log files.
Easy Navigation and Data Visualization
The results output in a default table view (data grid) similar to Excel, but with more advanced features at your fingertips. Sorting, grouping, searching, filtering, conditional formatting, formula fields, column chooser, and split view. Additionally, you can transform the data in a Excel, HTML, MHT or PDF report, and consolidate the data into a chart for clearer readability. You can use the command line to automate the process.
Data Filtering
From Instant Find to Auto-Filter row. A simple to use Excel inspired UI for creating advanced filter expressions to filter in-memory data.
Pivot table & tree map
When it comes to data mining and multi-dimensional analysis, an advanced and feature complete pivot table and tree map provides business users unrivaled insights into daily operations.
Use SQL to read log events
Querying large amounts of log data for specific information is easy with familiar SQLite syntax. You can even write a complex SQL query (with functions, group by, joins, unions, etc.)
Query editor
The query editor has syntax highlighting and code auto-completion, code snippets, query constants, in-line VB.NET code, and more!
Easy to use Dashboards
Building dashboards using the designer is a simple matter of selecting the appropriate UI element (Chart, Pivot Table, Data Card, Gauge, Map or Grid) and dropping data fields onto corresponding arguments, values, and series. It's built so you can do everything inside Event Log Observer: from data-binding and dashboard design to filtering, drill down and server side query parameters. Available only in Professional edition.
Printing and Data Export
Event Log Observer implements powerful printing and data export engine (especially good for Excel files) that supports numerous file formats to export data (XLS, XLSX, PDF, RTF, TXT, MHT, CSV, HTML, Image formats, etc...)
Performance
Event Log Observer is designed to address your toughest requirements regardless of dataset size and information complexity. The user interface is built for speed - always fast and always responsive.
Not only for Windows Event Logs
Event Log Observer can read log events of various types including: EvtxECmd parser, text lines, CSV/TSV files, structured text data using regular expressions (GROK), log4j/log4net XML, JSON logs, etc.
Read compressed ZIP files
Event Log Observer can read log events of various types including: EvtxECmd parser, text lines, CSV/TSV files, structured text data using regular expressions (GROK), log4j/log4net XML, JSON logs, etc.
Plus tons of other useful features!
You will have to install Event Log Observer to explore these and many more other features. Download now.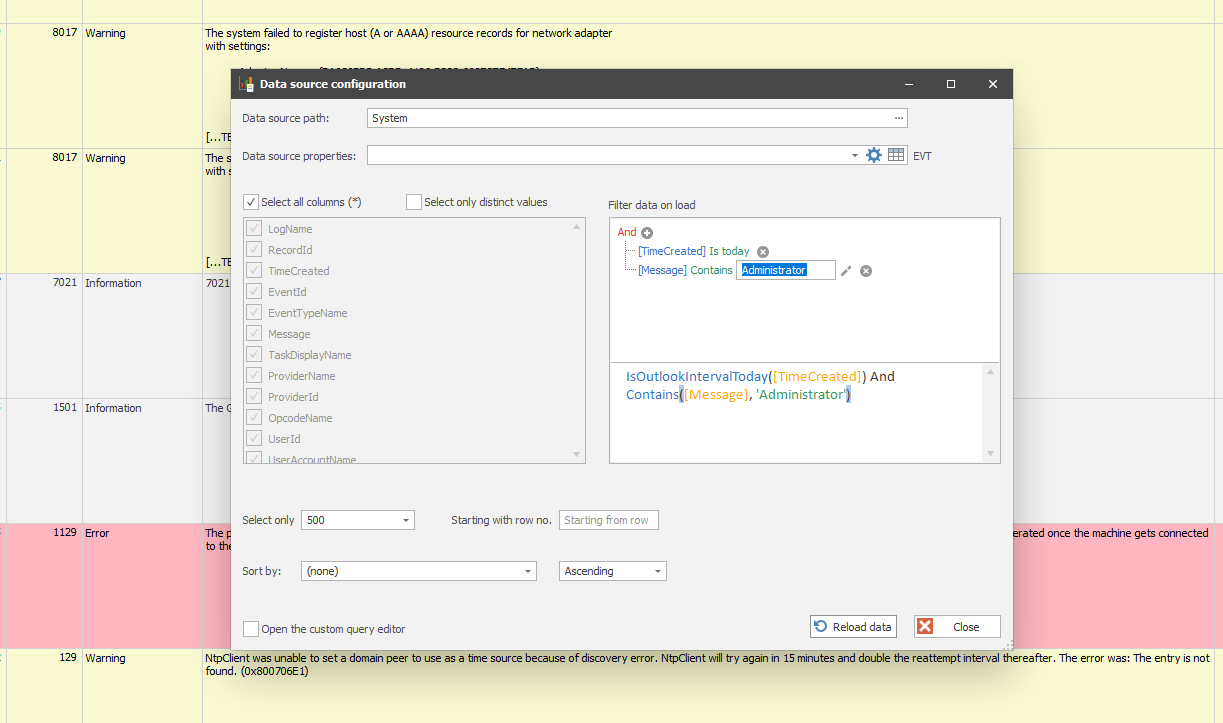 Purchase Premium Features:
Event Log Observer may be used for FREE by:
Individuals for personal non-profit purposes at home (most features are available, no support)
Any local, state, federal or international government agency or institution (all features are available, no support).
Educational institutions and students for non-commercial purposes related to learning, training, and research (all features, no support).
For commercial users there are two available editions of ELOB: free trial and Professional. The Professional edition caters for the extra needs of professional system administrators and developers - and quite a few power users as well. After the installation you can use ELOB for 20 days for FREE so you can test it to see if it suits your needs. After that just purchase a license code to unlock a wealth of extra features, including exporting data in Excel, HTML, MHT or PDF, multi-dimensional analysis with pivot table, Dashboards Designer and more!
No further downloads are required - just activate your trial installation. Be up and running in less than a minute.
All licenses are perpetual (non-expiring) with free minor updates.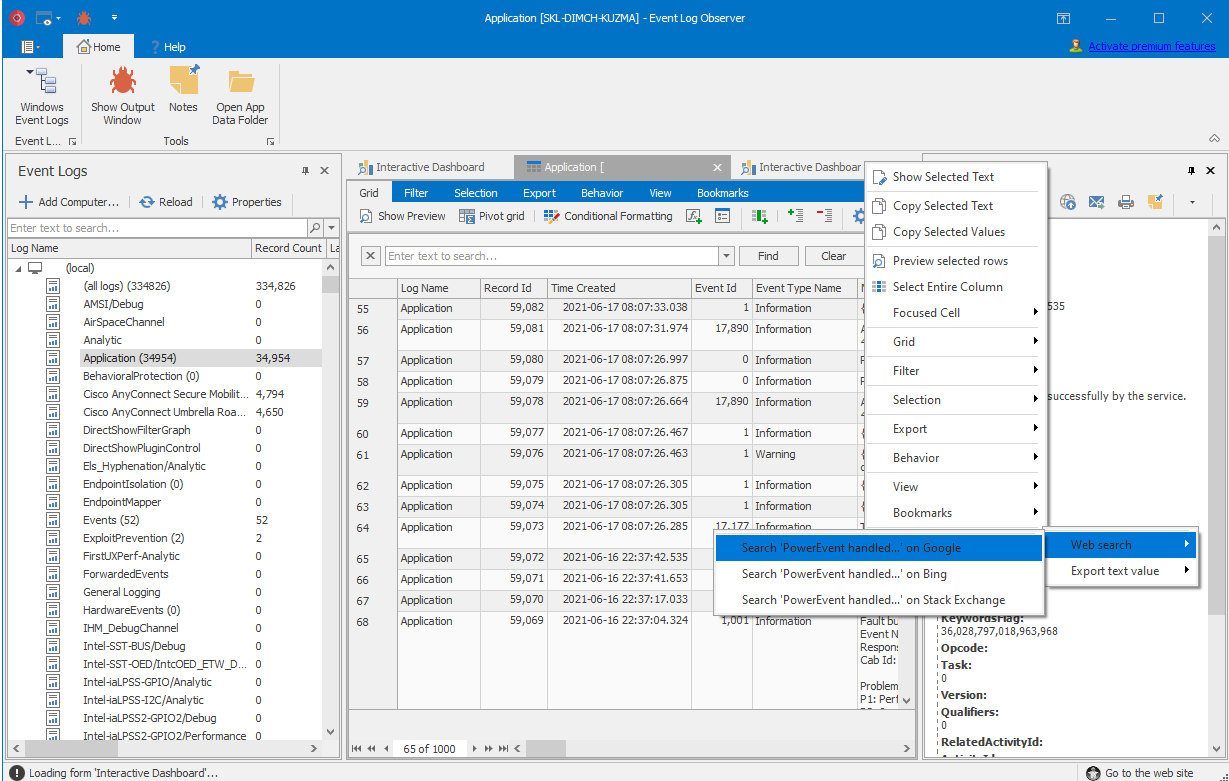 CLICK HERE TO DOWNLOAD THE INSTALLER


Download not starting? Try this direct download link to download this absolutely clean installer (Windows MSI package) for free.
Wanna buy a license? Great (also thanks :), there is no need to install ELOB again.
Just click here to purchase your registration code for immediate delivery:

BUY LICENSE CODE NOW

(Limited-Time Offer: discount from $199 USD)
Happy Log Browsing!
Latest version was released recently.